If you have joined us through our promotional offer, you should be aware that your subscription for the full price will begin the next day from when you sign up.
How does my subscription work and what should I know?
Your first set of tickets will usually be priced at a promotional fee, however, before inputting your card information, you must read all the information provided (image below).

We will start your full-price subscription the next day, not 24 hours but in the early morning of the next day.
For example:
If you sign up to our service on Tuesday evening at 6 pm, you will be charged the promotional fee at this time in order for you to receive your 10 lines + 10 raffles. The full price subscription will then begin early morning Wednesday, where you will receive 20 lines per week.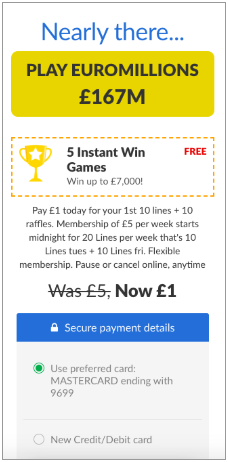 What if I don't want my promotional offer to roll into a subscription?
We provide a subscription service to ensure you never miss out on purchasing lottery tickets. The best part of our service is taking away the fear of missing out, which is why we purchase lottery tickets in advance for you. You can cancel your promotional syndicate before the next day, to avoid rolling into a subscription.
Please Note:
We offer a flexible membership to our members, as you can purchase one-off tickets or pay a direct debit to purchase larger amounts of tickets.

You can keep track of your syndicates in the member's area, as you should be able to see what is active and what isn't under tickets.