Cashing out your winnings is the best part of our service, we want to guarantee a hassle-free and fast experience, which is why PayPal is the best method for cashing out your winnings on Lotto Social.
Do you already have a PayPal account?
If you already have a PayPal account, you will just need to visit your account page by logging in here.
Step 1) At the top left you will see a button that says 'Cashout'. This will take you to our cash out page, where you can take your winnings as cash.
Step 2) You will see the amount of money you have available to cash out on your account. You will need to select 'PayPal cashout'. Make sure you enter your registered PayPal email address and the value you want to cash out. Once you are happy, just click 'Cashout with PayPal'.
Please remember the minimum amount you can cash out is £3.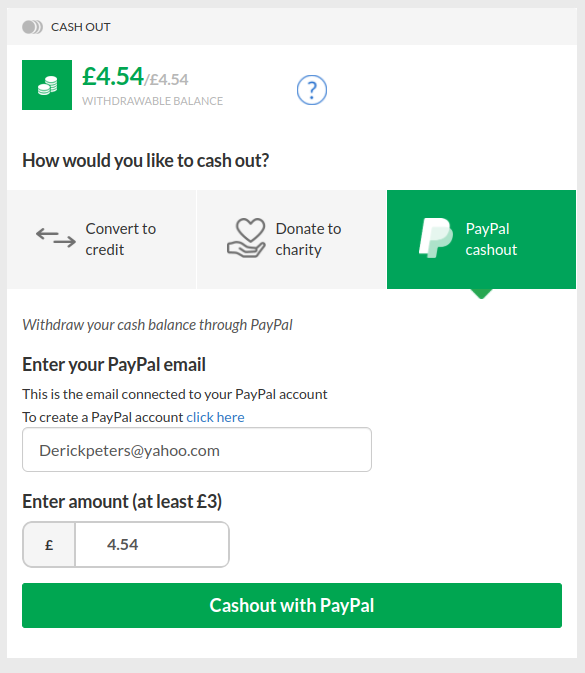 Step 3) You will then see this message pop up, which will confirm the request has been sent to PayPal. You can view the status of the cashout, but this can take up to 7 days for this to be processed.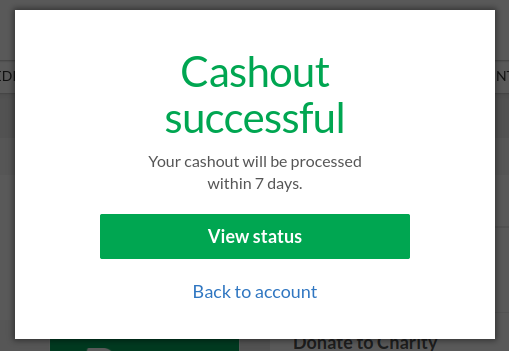 If you want to view the status of the cash out request, you can visit this page below at any time. It will say either Pending or Processed, which means once it has been processed the funds should now be in your PayPal account. Allow 7 days for this to completed, but please be patient with us and you will be notified via SMS too.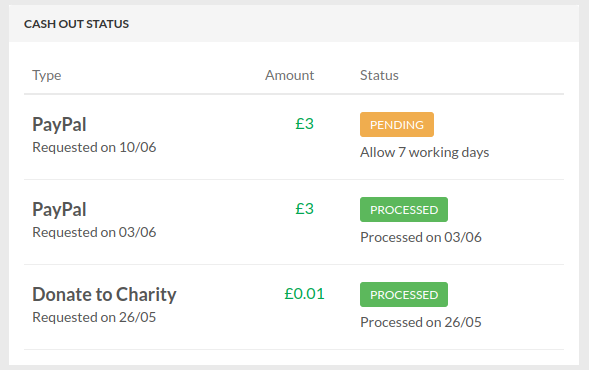 If you don't have a PayPal account already, we recommend signing up today.
Please click here to create a PayPal account. This is the easiest and fastest method to receive your winnings, as this is a secure method that can be used internationally.
If there is a delay in your cash out request.
Make sure your PayPal email address is entered correctly to prevent any delays. Due to security procedures, our system will assess every cash out request equally and fairly, ensuring there are no fraudulent requests or any unlawful requests, we will also ensure your account and winnings are always protected.
Contact our customer service team to look into the delay for you.
Important to remember:
If there are any issues or delays that prevent you from receiving your winnings, we will ensure to return all winnings back to your cash balance after 30-days. This will not apply to funds that require a manual process or any winnings that have already been cashed out.