Jackpot triggers is a great tool which is intended to ensure you don't miss out on the big jackpots. You have the flexibility to switch this on or off at any point. You're in control!
So we've made this very easy for you to do so, just follow the instructions below to see how to turn the jackpot trigger on:
Step 1) Log in to the member's area

Step 2) When you're in the member's area, just click on the menu panel and click

Tickets

. Scroll down and select the jackpot trigger you want activating. Click

'Activate Now'

.

Step 3) Confirm activation - check that you are happy to buy more lines. Then confirm the payment using your card details on the following page.

Step 4) Now the trigger is activated until you decide to turn it off. Remember you will be charged every time the jackpot rolls over.
Below we have detailed images that will show you how to turn on your jackpot triggers.
Step 1: Once you are logged into your account, you will need to go onto your tickets page by clicking Tickets in the menu panel.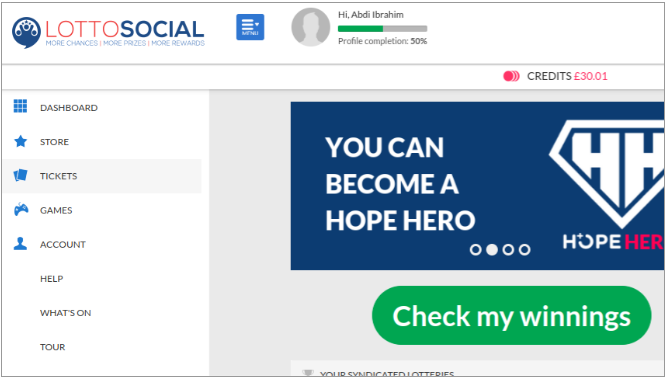 Step 2: You just need to scroll down and you should see the jackpot triggers (image below). Click 'Activate Now' to start a trigger for when the jackpot hits the desired value. In the above example, once the EuroMillion jackpot reaches £45M you will get 10 lines for just £3.50 each time the jackpot rolls.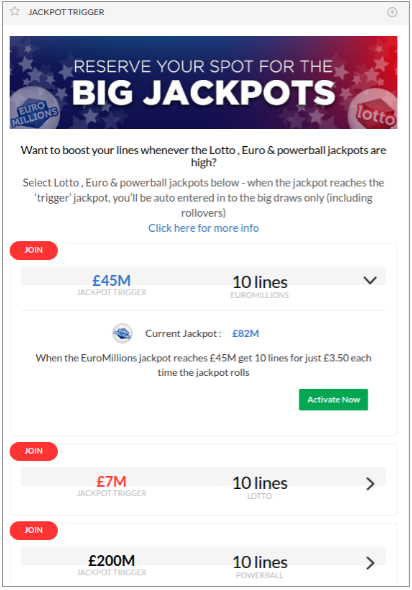 Step 3: Confirm that you want the jackpot trigger activated.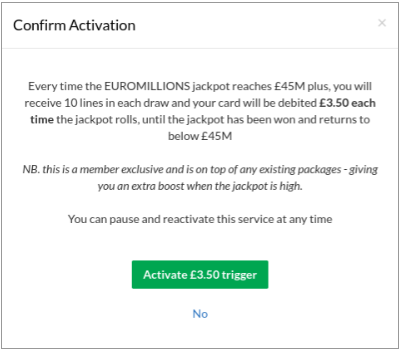 Step 4: Now the jackpot trigger is activated and you can see this as it will look like the image below.